Discovering More About Your Local Retail Owner
Say hello to the impressive Melissa Thomas, a California native who has successfully embraced the entrepreneurial spirit by owning 10 of The UPS Store locations throughout Riverside County in Southern California, with her husband Jerome.
Melissa's solid understanding of what customers expect for superior customer service was built on the foundation of years of experience in the "quick serve restaurant" industry. Melissa, like many, started working at McDonald's when she was just 17. Dedicated to great service and a love for her staff and customers, she spent 10 years working her way up before she accepted a role with Carl's Jr's Training Department. It's no surprise that Melissa and Jerome eventually decided to channel that energy into their own business. They methodically researched local retail ownership opportunities and jumped at the chance to acquire a The UPS Store location near their home and kids' local school.
Putting In the Work
How does one grow from one store to 10? "Do your research. Everything might look good on paper, but you really need to invest time to research," Melissa says. "Talk to people on the ground, people in the industry. Learn about the good, bad and the ugly to get a solid understanding of the business opportunity." Melissa and Jerome also put in the hard work when they had moments of doubt, especially during the financial crash of 2008. Their perseverance, coupled with their outstanding management team and a continued desire to provide excellent customer service for the community, allowed them to weather the storm and prosper.
Melissa and Jerome's perseverance allowed them to weather the storm and prosper during moments of doubt.
Superwoman Doing It All
When Melissa was asked what her biggest achievement has been, her response was "raising three great kids while running a business." She proudly states "I'm a mom – that's who I am first." Melissa's balanced approach to leading and inspiring a team of employees while still attending her kid's basketball games, events, and teacher conferences is admirable.
Melissa is thrilled and proud that two of their three adult kids have joined the family business. It's truly a family affair and with the addition of her first grandchild, Melissa's heart is full. When reflecting on her blessings, she often thinks about her personal mentor, her grandma. Melissa shares that her grandma "instilled the highest level of integrity and work ethic in me, and to this day I think of her and thank her for the person I have become."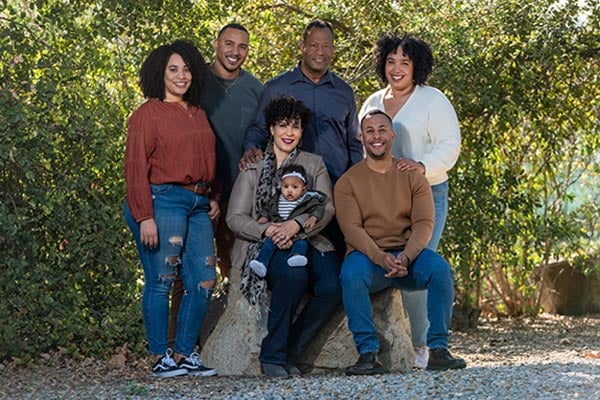 Melissa Thomas with her family
Melissa is thrilled and proud that two of their three adult kids have joined the family business.
Paying It Forward
Giving back is second nature to Melissa, especially to children's organizations. The Toys for Tots Literacy Program and local Boys and Girls Clubs top her list along with donating backpacks filled with brand new school supplies for first and second graders.
Date Night is a Priority
While Melissa is busy overseeing the family business and supporting local charities, she still makes sure family time and date night with Jerome remain top priorities. Melissa and Jerome love going to the movies, riding their electric bikes on the weekend, and even trail hiking. With such a robust schedule, Melissa has also discovered the time saving and fun way to cook with her favorite meal kit delivery recipes. Taking time to read books is Melissa's treasured "me time."
Next time you happen to see Melissa in one of her stores – be sure to say hello and ask her what she's cooking and reading next!