Discovering More About Your Local Store Owner
Nestled in a tight-knit equestrian horse community of Orange, California, sits the wonderfully immaculate and very helpful The UPS Store, located at 8502 E. Chapman Ave. As a local small business owner, I have made this location my "store of choice" for many years due to the wonderful and cheerful service of store owner, Snover Uppal. Snover has owned and managed the store daily for the last 5 years.
Behind Snover's friendly greeting, you will find she is knowledgeable, organized, resourceful, cheerful, and surprising. Surprising? Yes, Snover has many hidden talents and interests outside of the store, and recently I had the wonderful opportunity to have a conversation with her to learn more about her background.
The cornerstone of a great business is when you can go into a store, and they know you by name, and they treat you like family. And that is exactly how you feel when you meet Snover.
Besides her love of serving the community with such charity work like Women's League, I was fascinated to learn that one of Snover's biggest passions is her love of quarter horses. In fact, she owns two horses, named Pistol and Peyton. Snover and her 19-year-old daughter, Riya have both become very involved in many local horse events, including competing in fast-paced rodeos.
In an interesting twist of fate, her love of horses and The UPS Store were brought together back in 2007 when the devasting Canyon Fire hit the Orange County neighborhoods surrounding The UPS Store. Snover's family home had to be evacuated due to the fire, and she also bravely helped evacuate many local horses that were being impacted by the fire. She selflessly and heroically directed all of the horse trailers to be parked at The UPS Store parking lot as a safe haven during this tragedy.
What does a local The UPS Store superhero do to wind down in her spare time? When she is not riding horses, or attending the rodeo, she is cooking and entertaining for friends. Her international culinary skills are proficient for Indian, Italian, and Japanese cuisine. In addition to cooking for small groups of friends over the years, she loves quietly reading a great book and can be seen hiking on local trails with her husband.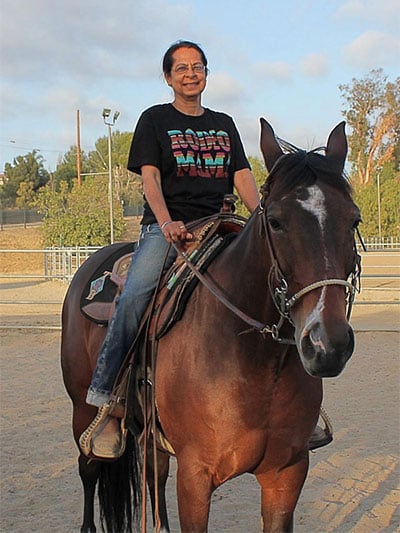 Snover Uppal riding a horse in her free time
Sharing Life Lessons: Community Service Runs in the Family
Snover first learned about The UPS Store Franchisee opportunity over 5 years ago from her husband and her mentor, who was her brother. Snover's previous business background was selling computers wholesale with her brother, and she worked closely with him to learn the ropes. Her "unmatched work ethic" took shape under his guidance and it has helped mold her into the wonderful Retail Owner of The UPS Store that she is today. She has shared that she was a little skeptical of owning The UPS Store at first, but now "she has found her calling" in customer service in a retail environment, and she enjoys servicing the needs of the community daily.
Her life philosophy to "work hard, take pride in what you do, strive for improvement and above all, LOVE what you do" can be seen inside The UPS Store – as well as in the community she serves. Next time you see Snover behind the counter, say hello and ask her about her horses!