Getting To Know More About Your Local Retail Owner
Say hello to Ashwin, the fascinating owner of five The UPS Stores in Ohio. His eclectic background story started with his birth in Fiji. After 13 years of growing up in Fiji, his family moved and settled in Ohio. Ashwin attended college while serving in the United States Air Force where his deployments included Operation Iraqi Freedom and Operation Enduring Freedom. He has the proud distinction of being the only member of his family to serve in the military. During his service in the Air Force, Ashwin worked in the Recruiting and Information Technology departments utilizing his skilled background in electrical and mechanical engineering as well as computer science. When he retired from the Air Force, he went to work for a Heating and Air Conditioning Company in their automation department. It was then that he discovered that his nearby Ohio The UPS Store location was up for sale, and he was very intrigued about the possibility of becoming a retail owner.
The Learning and Building Years
What motivated Ashwin to first get involved with The UPS Store retail network? His desire to provide great customer service in his community combined with his search for a sound business investment. Before committing to his first store, he turned to a trusted mentor to help him "run the numbers." This mentor also provided Ashwin with a book on great customer service, the cornerstone of any successful business. "Take care of your employees first, as they in turn will take care of your customers," his mentor advised him. This piece of advice stuck with him, and serves as Ashwin's motto today. Because building the right team is so important to Ashwin, he's become that unique retailer who admires and coaches his employees across his five The UPS Store locations. He loves to get to know his employees and "tremendously enjoys watching them grow." By having great teams, it's been easier for him to acquire additional stores, and after almost eight years, he's still just as passionate about mentoring his team, giving solid customer service and helping to give back to his community as he was on day one.
"Take care of your employees first, as they in turn will take care of your customers" — Ashwin Narayan, Retail Owner
Giving Back To Community:
The sign of a true leader is one who lends a helping hand in the community, and that's what Ashwin has done. During the COVID pandemic, he helped fellow local business owners reopen by printing complimentary "We Are Open" signs as well as printing banners for the local hospital to honor local Health Care Heroes. These acts of showing appreciation and honoring those in his community are what make Ashwin special.
The sign of a true leader is one who lends a helping hand in the community, and that's what Ashwin has done.
Multi-tasking
Ashwin leads a busy, but balanced life with unique hobbies including building custom liquid cooled computers in his spare time, listening to music (Linkin Park, Creed and early Metallica are some faves) and he's very close to receiving his private pilot's license.
When he's not recreationally flying in the skies above Ohio, he can be found at home cooking and grilling. Ashwin is a huge fan of sous vide (the process of vacuum-sealing food in a bag, then slow cooking it to a very precise temperature in a water bath). His favorite dish is lamb, keeping the seasonings simple (tip: salt, pepper and a dash of rosemary). He's like a regular celebrity chef as he fires up his blowtorch to sear and cook the outside of the meat to seal in the juices, finishing it in his sous vide cooker, for that restaurant-like quality. He also brings his culinary skills to the neighborhood as a pit master with his huge BBQ grill, cooking for and entertaining neighbors while they root for The Ohio State Buckeyes.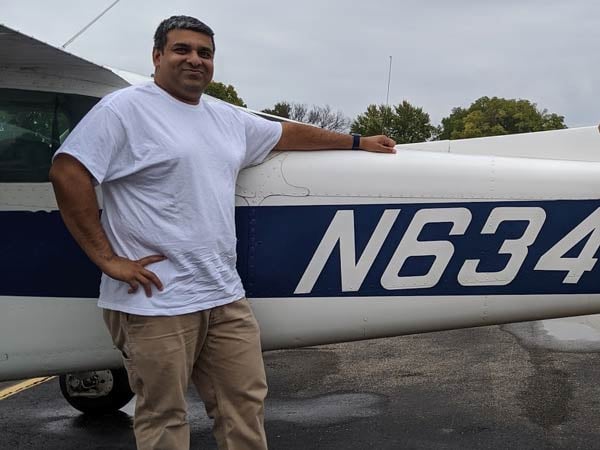 Ashwin Narayan training for his pilot's license
In addition to his multi-faceted array of hobbies and owning multiple stores, Ashwin is a dedicated family man, married to his wife Roopsi, and the father of their son, Abhiraj. Next time you see Ashwin in one of his stores, stop and say hello, thank him for his military service and remember to ask him for some grilling tips!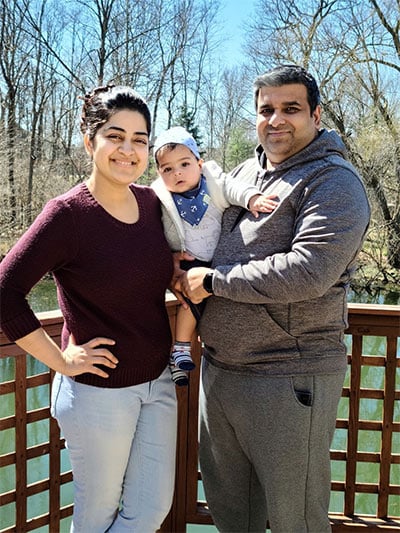 Ashwin Narayan with his family