Packing & Shipping Boxes
The UPS Store Hicksville
When it comes to cushioning and protecting your things, there's nothing The UPS Store Certified Packing Experts® can't handle. Big or small, we ship it all. From cars, to clothes to fragiles, our experts are trained in advanced packing techniques. Plus, with our Pack & Ship Guarantee, we back up what we pack up, so you have peace of mind.
Pack & Ship Guarantee
Certified Packing Experts
Custom packing solutions
Electronics packing & shipping
Antiques & artwork packing & shipping
Packing materials
Packing supplies
Luggage shipping
Golf club shipping
Do You Need Help with Packing Something Fragile?
Contact the friendly associates at our store and we can help you pack and ship with confidence.
customer buying packing supplies at The UPS Store
wrapping a vintage camera with bubble cushioning
closing a shipping box with packing tape
8:30 AM
-
7:00 PM
8:30 AM
-
7:00 PM
8:30 AM
-
7:00 PM
8:30 AM
-
7:00 PM
8:30 AM
-
7:00 PM
8:30 AM
-
5:00 PM
11:00 AM
-
4:00 PM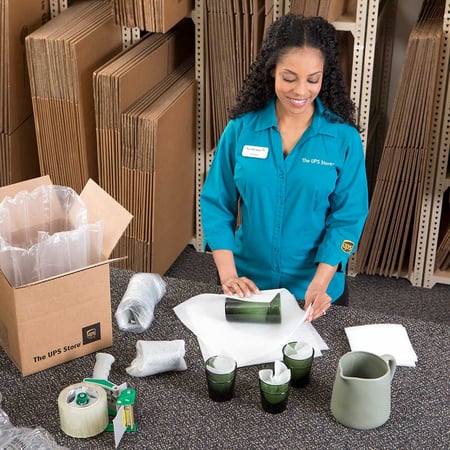 Local Packing & Shipping Experts in Hicksville
Packaging Supplies & Shipping Solutions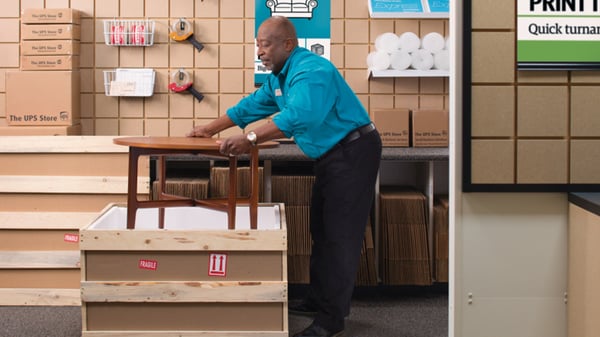 Furniture Shipping
Need to move a couch, piano, dresser, or desk? Let The UPS Store handle the big stuff. We can pack and ship furniture so it arrives safely at it's destination.

Whether it is for home or business, a single piece or an entire room, we can help you solve any furniture packing challenge. We can help with blanket wrap, protective covering or custom crating. Learn more about our Freight Shipping options for the really big stuff.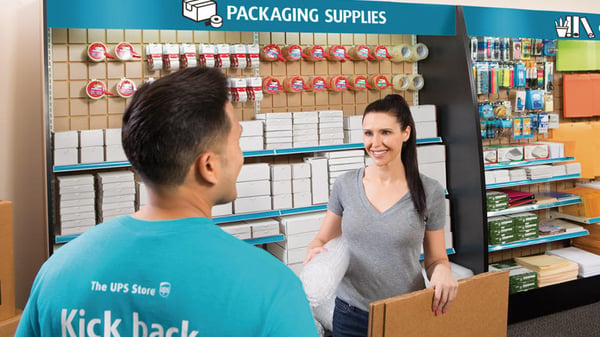 Boxes & Packaging Supplies
We offer a large variety of standard shipping box sizes ranging from 6x6x6 all the way to 24x24x24. Let us help you select the right box to help prevent bursting or compression. Our boxes are designed specifically for shipping and we can help you determine if your item should be single or double boxed and how it should be packed for maximum protection. Need a different size than what's standard? We can easily create a custom box for you to meet the needs of any shipment.

We also offer packing materials to cushion and secure your shipment including:
- Bubble cushioning
- Foam wrap
- Poly bags
- Stretch wrap
- And much more

Stop by today to get started.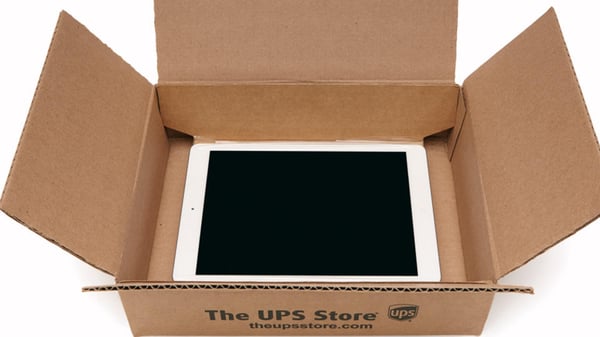 Shipping Electronics
If you need to ship a laptop, ship a computer, or ship personal devices like a tablet or smartphone, we carry a suite of specialty electronic shipping boxes that are designed to provide extra protection for your equipment while in transit.

Our specialty electronic packaging provides the following benefits:
- Secures the product in place
- Meets International Safe Transit Association (ISTA) drop test requirements
- Is recyclable and reusable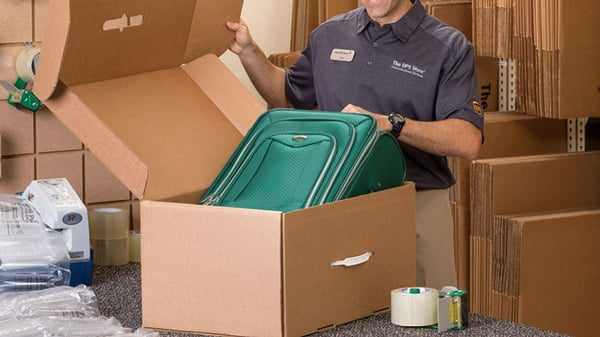 Luggage Shipping
The UPS Store has several luggage shipping options available:
- Ship your things in The UPS Store Luggage Box
- Pack and ship your suitcase
- Ship your suitcase as is

With increased airport security and more flights operating at full capacity, airport check-in lines can take more time than ever. With the help of The UPS Store Hicksville, shipping luggage before your trip can save you time at the airport, plus those additional airline fees. Not to mention, you'll get peace of mind with our online package tracking and Pack & Ship Guarantee.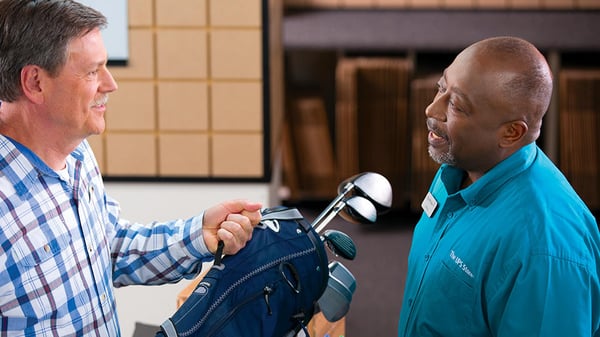 Golf Club Shipping
Looking to ship golf clubs in Hicksville, NY? Let The UPS Store caddy your golf clubs to your favorite course. We offer golf club shipping solutions so you can rest easy knowing your equipment will meet you safely at your next golf destination.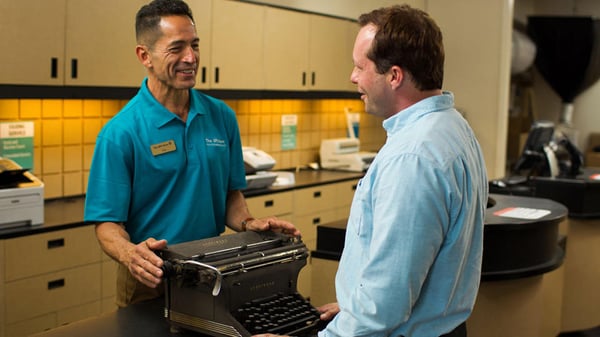 Shipping Antiques & Artwork
Our certified packing experts are qualified to handle your precious high-value or sentimental items. We carry boxes in a variety of sizes and all the necessary supplies, such as bubble cushioning. We can even make custom boxes and crates. Let us handle all the details to crate, pack, and ship your fragile antiques.

Need help packing and shipping a loved one's estate? The UPS Store at 17B E Old Country Rd is your estate shipping resource in Hicksville. Whether you're a personal estate shipper or you're with an auction house or gallery, our Certified Packing Experts can help you pack and ship precious heirlooms so they arrive safely.
Schedule Appointment
Frequently Asked Questions
Our General Packing Services
Join Our Mailing List
Sign up for insider access to The UPS Store® news and special offers and you'll save 15% on your next online print order.
Didn't find what you were looking for or want to see our other offerings?